Professional Santa Claus Suits
"The suit maketh the man!"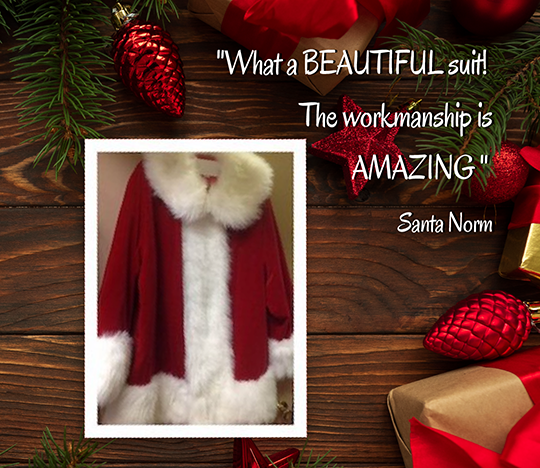 Imagine the first time a child sees you as Santa Claus:
"Santa's appearance was like something out of her favorite storybooks. Sarah couldn't help but believe he was the real deal. His outfit seemed to exude the spirit of Christmas, and she could hardly believe her eyes as she stood face-to-face with the jolly figure she had only dreamt of meeting before."
"As she stared at Santa, her excitement and joy were palpable. It was as if being in his presence filled her with the holiday spirit. Her heart swelled with belief and anticipation, and she eagerly shared her Christmas wishes and dreams, knowing that Santa would hear them all. In those precious moments, she felt a deep connection to the enchanting magic of Christmas, and her faith in the extraordinary was reaffirmed."
We pride ourselves is being as authentic and believable as we can every time we put on the red suit. Children are ultra-observant. If we have any chance of convincing a child that we are that magical toy maker children dream of, every detail must be perfect.
Two things instantly confirm Santa's authenticity – his beard and his suit.
Our professional Santa Claus suits pass the authenticity test with flying colours!
Our suits are considered to be among the finest available. They feature:
Rich red cotton velvet authentic Santa colour
Wide fur that is thick and deep
Satin-lined coat with inner pocket
Matching pants with an elastic waist for comfort, plus two pockets
Santa hat with matching pom-pom
One pair long white gloves
Boot cuffs
Includes vinyl belt (you'll probably want to upgrade) and boot covers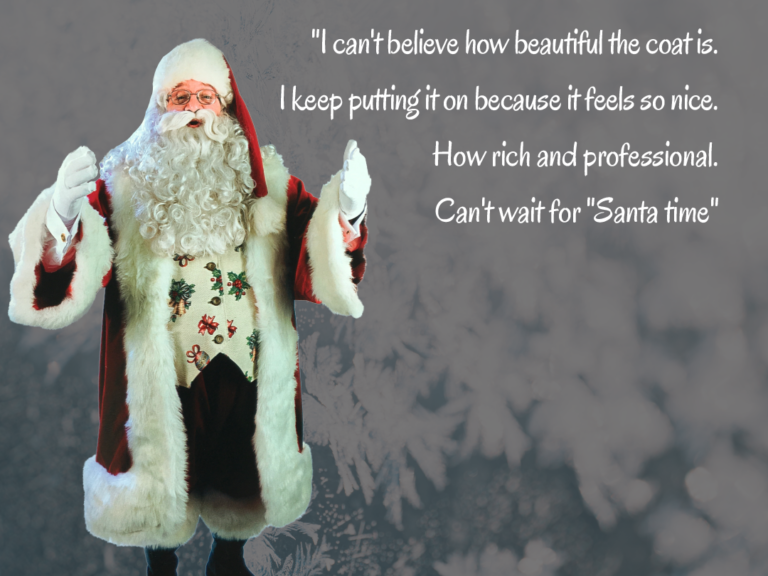 An estimated price range for our custom-made suits is below. Please note that prices may vary over time due to factors such as material costs. Rest assured, you can provide us with your measurements, and we'll be ready to create a suit that perfectly fits you.
| | |
| --- | --- |
| Large | $1000 CAD |
| XL | $1150 CAD |
| 2XL | $1250 CAD |
| 3XL | $1350 CAD |
| 4XL | $1450 CAD |
| 5XL | No can do, sorry |
Not included in the above prices:
Shipping to Hire A Santa charges, shipping to Santa charges, packaging and handling is extra depending on your postal code.
Please allow several weeks for the ordering/delivery process.
 We do offer a rental program if you can't afford the suit or are not sure if you wish to work as Santa every season. The rental program consists of 50% payment of the total invoice and the balance 50% to be paid by the end of May the following year. All cleaning, shipping, and handling costs that do occur will be charged on top of the existing payment.
Please complete the information below so we can get all the details back to you and answer any other questions you have. 
You're on the way to having the finest authentic Santa suit available!